Welcome to the official website of LOOP SPORTS MANAGEMENT, INC.!
We produce efficient systems to educate basketball players.

HOS GAMES – Keion Kindred will be Back to Osaka!
Guest coach for the Loop Basketball Clinic, Keion Kindred will come back to Osaka this December. This time he comes to Osaka as a player and plays again Japanese players. Loop Sports Management, Inc. invites Keion Kindred and more players from LA for HOS GAMES to give opportunities to Japanese basketball players and fans to show how "REAL" American players play basketball. For more information, please check the HOS GAMES Facebook page.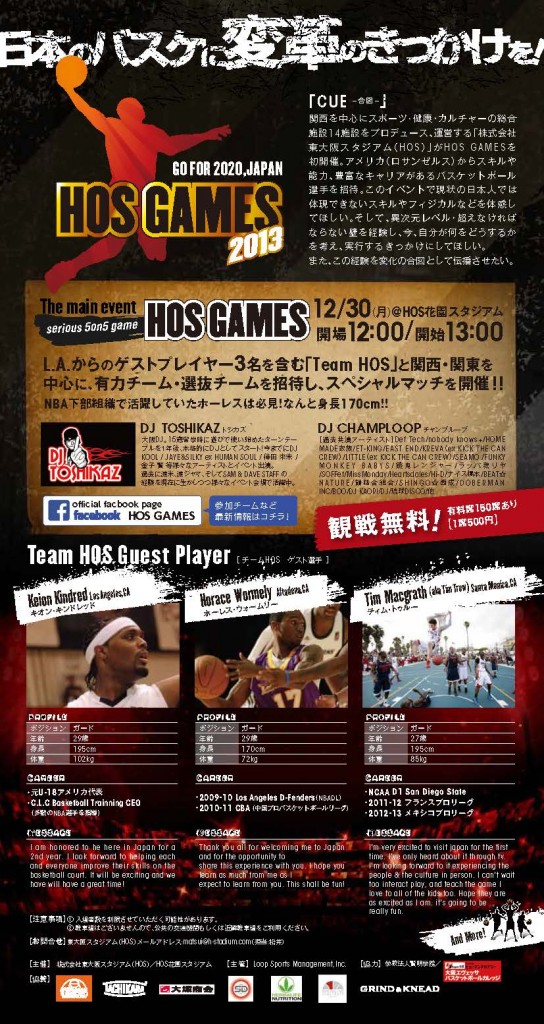 Tokyo will host 2020 Olympic & Paralympic Games.
Loop Sports Management, Inc. managed a Japanese basketball player, Keishiro "KEI" Tsutsumi, to be on the Tokyo's final presentation video!


2013 Drew League
Our team Los Angeles Loop played at one of the most exciting Pro-Am leagues in US, the Drew League this summer! LA Loop got a NBA player, Orlando Johnson, and a Japanese best player, Narito Namizato, in this new season!! Also, CEO Ryosuke "Yo" Nozawa was selected as Coach of the Year!

Narito "Nari" Namizato
played against a NBA star
Brandon Jennings
at the Drew League. Please check out the highlight!